If you ask parents about the most important decisions they'll have to make regarding their children's health, you'll most commonly hear responses like vaccinations, regular checkups with their pediatrician, or medication.
Where they are right, these are all very important, regular visits to a pediatric dentist starting at age two can be just as important. Pediatric dentists can help you determine a good time for your child to visit an orthodontist (usually by age 7) and will monitor their overall oral health as they develop.
We've put together a few tips and signs you can look for, keep in mind, and mention to your pediatric dentist at your next cleaning.
Age:

The American Association of Orthodontists (AAO)

recommends at least one visit for every child before the age of 7. Even if some baby teeth are still in place, the doctor can spot problems with the alignment of the teeth and jaws at this appointment. Treatment is often easier in a younger child than in a teenager or adult. Another benefit of establishing this relationship early is that the doctor is familiar with your child's unique needs as he or she grows.
Difficulty with dental functions: If your child is having trouble chewing or biting into food or the upper and lower teeth don't meet in a comfortable way, it's time to see an orthodontist.
Appearance: Protruding or crowded teeth or a jawline that appears out of proportion to the rest of the face are all issues that should be addressed by an orthodontist.
Developmental challenges: Orthodontists can help if it seems to be taking too long for your child's baby teeth to come out or if thumb-sucking is an issue in the growth and development of the teeth.
What Should I Expect at the First Visit?
At your first visit, the team at a family orthodontic office may give you a tour of the office to help you and your child get more comfortable. The doctor will discuss with you your child's prior dental care and hygiene routine.
When the examination begins, it will most likely include X-rays or photographs of your child's teeth in addition to a thorough exam. Impressions may be made if it looks like treatment may be needed. You should allow about an hour for this initial visit.
Most first visits to a kids orthodontist end with one of three outcomes. The most common result is that the doctor finds no issues and your child needs no further intervention at that time. A second possibility is that a potential problem is identified, but it doesn't require immediate action other than monitoring.
The last option is that a more serious issue is noted and best treated early for the most positive outcome. Expanders, braces, and retainers are some examples of early intervention. If these tools are used, you'll probably return to the orthodontist in six to ten weeks for further evaluation.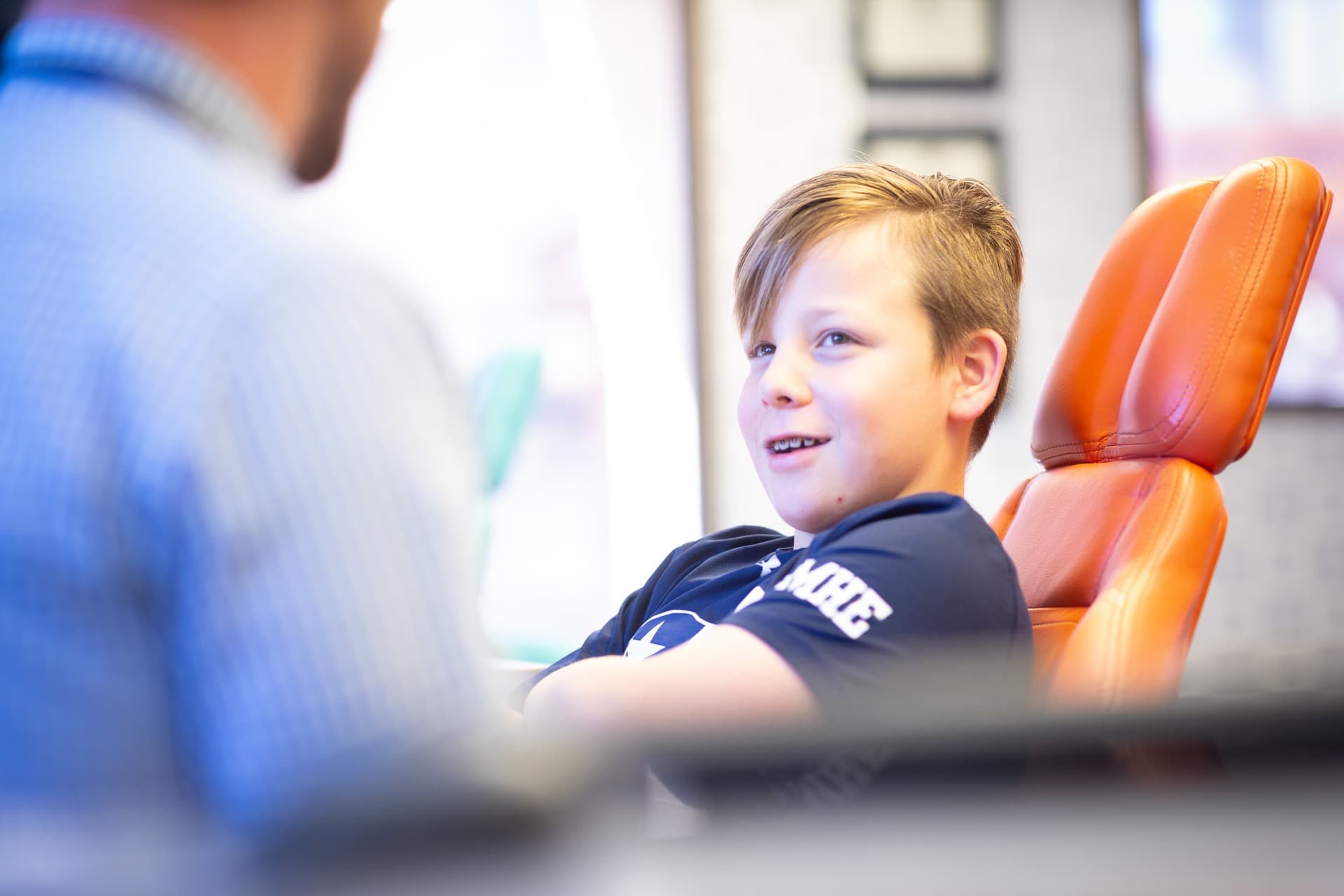 Let myKIDSdds be Your Orthodontic Home in Dallas
At myKIDSdds, our goal is for every visit to be a positive experience for every child and parent so no one dreads a visit to our offices. Our award-winning practice is staffed with professionals who know how to put you and your child at ease. Training is a constant priority at myKIDSdds, so our team is always at the forefront of new advances and techniques.
At myKIDSdds, we take a whole-health approach to dental care, meaning we're happy to collaborate with your pediatrician and other medical providers to ensure everyone is working toward the same goal. Contact us today and let's get started on giving your child the most beautiful smile possible.
By the way, did you know that our practice includes two of the best adult orthodontist in Dallas!? Click here for more information on our awesome doctors.
Contact Us →