Children's Sedation Dentistry In Dallas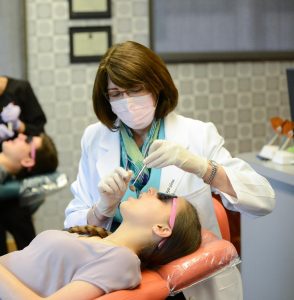 At myKIDSdds, our main goal is to create an environment kids love! A place they're excited to visit and sad to leave. We understand that this way of thinking about dental visits is foreign to the vast majority but are so fortunate to have daily proof that it is actually possible. We also understand what it takes to make a child feel comfortable in a new environment and know, that depending on the child, this may take some time, but rest assured we look forward to accomplishing our goal with each and every patient we see. In efforts to provide your family with relaxing, enjoyable visits we offer three sedation options.
Nitrous Oxide
Nitrous Oxide, typically called 'laughing gas' because it's known for making patients giggly, is a type of medication mixed with oxygen and is given via nose mask. This sedation option usually takes five minutes to take full effect. Once the medication sets in, your child will feel significantly more relaxed. After the procedure, pure oxygen will be pumped through the mask for a few minutes and the effects of the gas will be gone completely.
Oral Sedation
This type of sedation is usually given 20-minutes prior to the procedure and is taken as a pill or in liquid form. Oral sedation will help your child to feel calm and sleepy during the treatment. Your child may still feel some of the effects of the oral sedation afterwards, which is entirely normal. We'll give you aftercare guidelines during your child's appointment.
IV Sedation
If the procedure is more complicated or if your child requires a heavier sedation level than 'laughing gas' or oral sedation can provide, we also offer IV sedation. Our anesthesiologist will administer the sedative through IV, accounting for both body type and treatment needed. Similar to oral sedation, your child may still feel a little bit of the sedative after their treatment is complete, this is normal and our team will give you all the aftercare information during your appointment.
Children's Dentistry and Orthodontist in Dallas
At myKIDSdds, our knowledgeable team and caring staff will make sure your child is comfortable and safe throughout their oral procedure with sedation dentistry. If your child requires sedation, we'll make sure to explain the process from beginning to end and will inform you of all aftercare instructions during your appointment. If you have any questions about sedation dentistry or if you'd like to schedule your dental appointment, contact our team in Dallas, Texas.
We strive to provide an environment where children have a comfortable and easy experience at the dentist. To hear about some of our current patients' experiences at our office, visit us on Google, Facebook or check out our testimonials page. If you're ready to make an appointment with our incredible dental team, fill out our online form or give us a call and we'll get you scheduled as soon as possible.