We Use the Latest Dental Technology Available!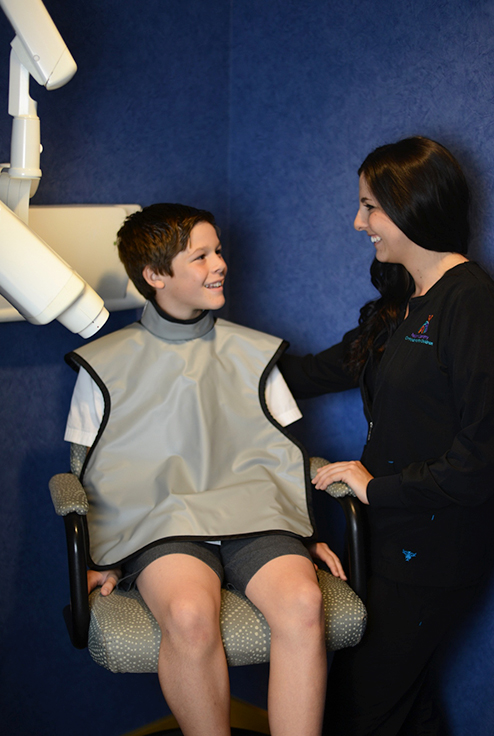 At myKIDSdds, we equip our office with the latest and greatest in dental technology enabling us to provide the highest level of care to you and your family.
There are more possibilities than ever before for parents with young children in need of dental care. One option in Dallas is the Solea laser. It's common for children to feel a little bit of anxiety when visiting the dentist. Opting for Solea-based dental work can set your child's mind at ease. Learn more about this incredible advance in dental care to find out if it is right for your family.
What is Solea®
The Solea is the world's first computer-aided, CO2 laser system to be approved by the FDA for both hard and soft tissue. The Solea provides our patients the ultimate level of comfort during procedures, and gives our doctors unparalleled precision. This laser technology also allows for many hard and soft tissue procedures to be used without anesthesia, saving time for patients and doctors alike during appointments.
It offers a fast, precise, noiseless and anesthesia-free approach to surgical, dental care. The device is run using a foot pedal accessed by the dentist, giving them complete control over the speed and intensity of the laser throughout the process.
Solea-based services are available for adults as well as children. They are particularly useful when there is significant dental work that needs to be done, such as frenectomies.
X-rays
Our doctors follow the guidelines of the American Dental Association (ADA) to determine the frequency in which to take x-rays. There are several different types of x-rays that are typically taken at different intervals.
At any time, additional x-rays may be needed in order to monitor growth and development or areas of trauma and active disease that are not detectable to the naked eye. Your child's safety is our top priority that is why our patients wear a full apron with a thyroid collar. Our advanced digital x-ray system exposes your child to significantly less ionizing radiation than your child receives from the sun on any typical day.
When Can Solea Be Used?
In addition to frenectomies, the Solea laser can be used in many procedures children commonly need, including:
• Removing tooth decay and filling cavities
• Tooth restoration in cases of injury
• Treatment of gum disease
The laser can be used on hard and soft tissue with precision.
If you are looking for a children's dentist in Dallas, Texas that specializes in Solea dental laser for kids, visit us at myKIDSdds today. Each one of our staff members is highly trained in dental services focused on treating children. Contact us today to learn more or to book your appointment.
Contact Us
(469) 535-6810
FOR MORE INFO, VISIT OUR OFFICE
Mon/Tue/Thur: 
8:00am—12:30pm & 2:00pm—5:00pm
Wednesday: 8:00am—12:00pm & 2:00pm—5:00pm
Friday: 8:00am—2:00pm