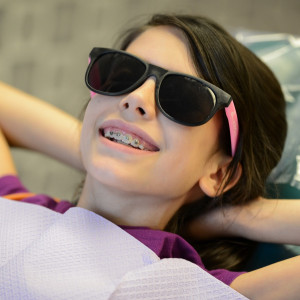 Recent advances in dental care have made getting metal braces an entirely different experience than it was even just ten years ago. Once an uncomfortable procedure, it is now virtually pain-free and incredibly effective. In fact, there are quite a few reasons why you should consider metal braces over ceramic or lingual others for your child or teen.
Who Should Get Metal Braces?
Regardless of the severity of your child's orthodontic needs, metal braces may be perfect for them. They are a reliable, time-tested way to straighten teeth and get the smile your child deserves. For children just developing their oral hygiene habits, metal braces are a fantastic way to straighten teeth while also encouraging regular brushing.
Benefits of Metal Braces
The benefits of getting metal braces are endless! First off, they're typically more affordable than other alignment options. Most patients' treatment time is much shorter, and there is a high success rate for teens with metal braces. Other benefits of metal braces are listed below.
• Affordable
• High success rate
• Shorter treatment time
• Accommodating to other dental appliances
• Easier to clean to maintain better oral hygiene
• Extremely durable
• Covered by most insurance plans
Learn more about the advantages of metal braces by contacting myKIDSdds directly.
How Metal Braces Work
Metal braces are made up of small metal brackets attached to each tooth, with a wire connecting each one. This wire is then tightened throughout the treatment, gently guiding your teeth to alignment. For many people with orthodontic issues, metal braces can be the perfect solution.
To learn about your options and to see if traditional metal braces are best for your child, reach out to our caring staff at myKIDSdds. We always put the needs of our patients first. Additionally, our kid-friendly atmosphere helps children and teens feel comfortable at each dental appointment. Give us a call or visit us online today to learn more or to book your appointment.
Contact Us
(469) 535-6810
FOR MORE INFO, VISIT OUR OFFICE
Monday, Tuesday, Thursday: 
8:00am—12:30pm
2:00pm—5:00pm
Wednesday: 
8:00am—12:00pm
2:00pm—5:00pm
Friday: 
8:00am—2:00pm